Workshop leader: Dr. Asao Inoue, Professor and the Associate Dean of Academic Affairs, Equity, and Inclusion for the College of Integrative Sciences and Arts, Arizona State University
Co-hosted by Writing Across Virginia (CWPA affiliate) and the Virginia Tech Composition Program
Date: Wednesday, October 21, 2020
Time: 12:30 – 2:00 PM (EST)
Zoom link and pre-workshop will be emailed to registrants.
Registration will be capped at 100 participants. The session will not be recorded, but Dr. Inoue will provide a handout for participants, including those whose schedules limit them to only attending a portion of the session.
Questions? Contact composition -AT- vt.edu.
Registration is open at https://tinyurl.com/Fall2020Workshop
Workshop Description
How do we engage in antiracist writing classrooms, classrooms that offer more equitable and inclusive assessment for diverse groups of students? How might our grading practices be explicitly antiracist? This 90-minute, interactive workshop will offer a theoretical and pedagogical background for using labor-based grading contracts in writing classrooms as one method for equitable and inclusive grading, and creating antiracist writing assessment ecologies that allow for critical engagement with language and its judgement. Participants will engage in three activities: (1) An interactive lecture that provides theoretical and pedagogical backing for the use of labor-based grading contracts; (2) an activity that engages participants a mock classroom activity that begins classroom interrogations of White language supremacy that works best in labor-based grading contract classrooms; and (3) a Q&A period. Participants will leave the workshop with a sample labor-based grading contract and a handout of materials and links to other materials online.
Preparation before workshop
Participation in this workshop includes a preparatory activity that will take approximately 60 minutes. The instructions will be sent via email to registrants on October 1 and again on October 13.
Bio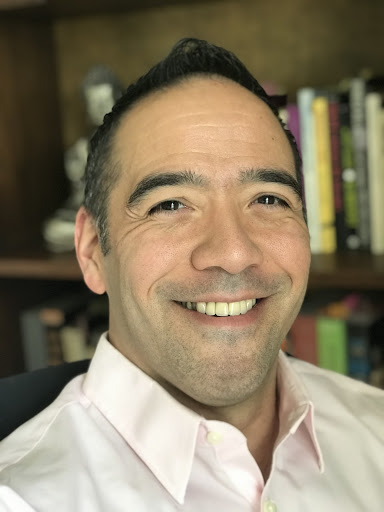 Asao B. Inoue is Professor and the Associate Dean of Academic Affairs, Equity, and Inclusion for the College of Integrative Sciences and Arts at Arizona State University. He is the 2019 Chair of the Conference on College Composition and Communication, and has been a past member of the CCCC Executive Committee, and the Executive Board of the Council of Writing Program Administrators. Among his many articles and chapters on writing assessment, race, and racism, his article, "Theorizing Failure in U.S. Writing Assessments" in Research in the Teaching of English, won the 2014 CWPA Outstanding Scholarship Award. His co-edited collection, Race and Writing Assessment (2012), won the 2014 NCTE/CCCC Outstanding Book Award for an edited collection. His book, Antiracist Writing Assessment Ecologies: Teaching and Assessing for a Socially Just Future (2015) won the 2017 NCTE/CCCC Outstanding Book Award for a monograph and the 2015 CWPA Outstanding Book Award. He also has published a co-edited collection, Writing Assessment, Social Justice, and The Advancement of Opportunity (2018), and a book, Labor-Based Grading Contracts: Building Equity and Inclusion in the Compassionate Writing Classroom (2019).